Off The Rails
Kameron Marlowe
Sat
May 27
6:00 pm
(Doors:

6:00 pm

)
All Ages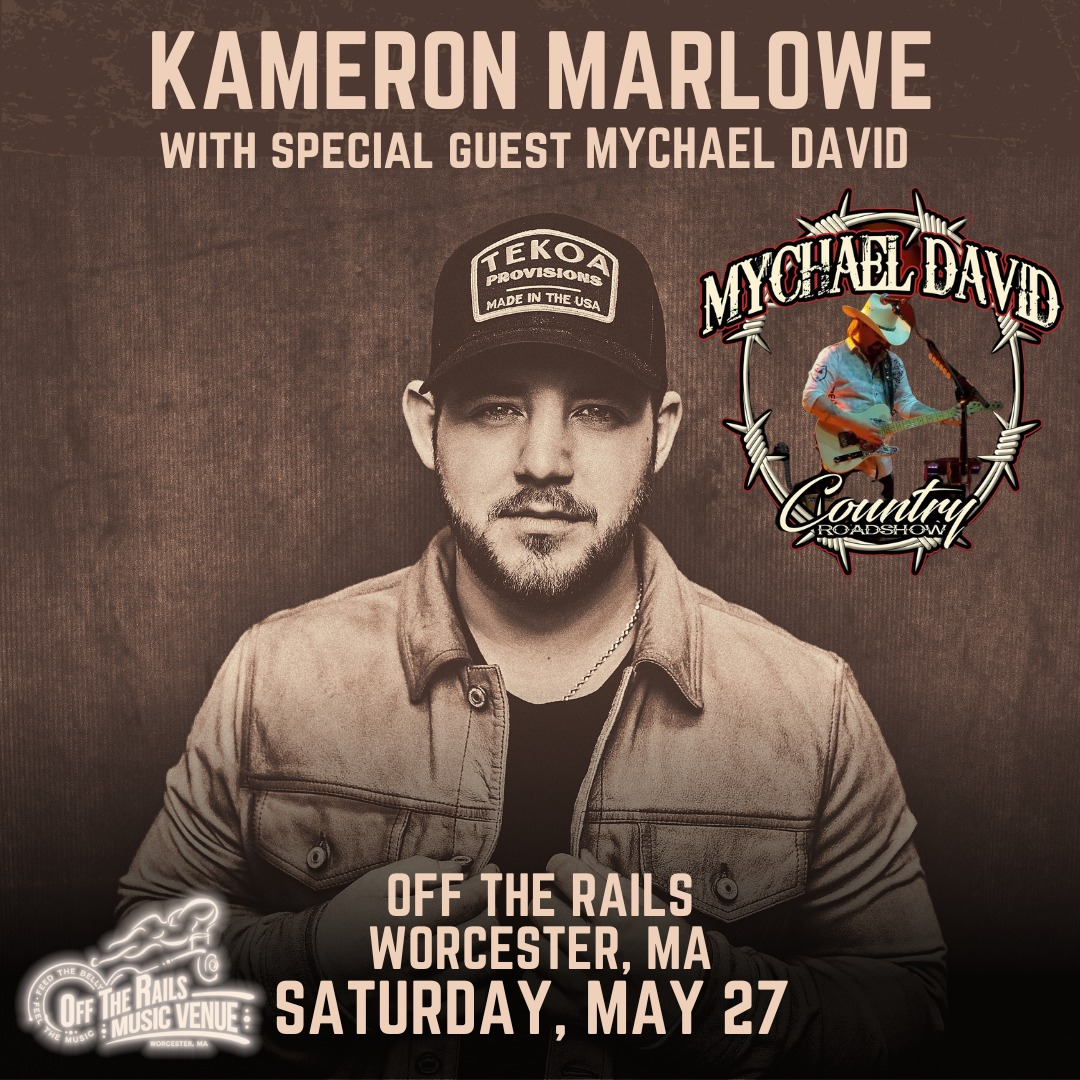 All Ages
General Admission
General admission is standing-room only.
Reserved Table Seating
Get access to seating at one of our bar-height tables. Only 12 tables are available.
Tickets must be purchased as a pair.
Tickets include:
Seating at one of our bar-height tables.
One (1) reserved parking spot in our lot. (Present your ticket confirmation to the lot attendant on the night of the show.)
Personal server to take your food/drink orders
Access to the entire Off The Rails Restaurant Menu
*Reservations made for Off The Rails Restaurant are NOT tickets to the event and do not offer a view into the venue*
Kameron Marlowe
Three chords and the truth.

It's country music's famous, straight-to-the-bone foundation, and the core of countess iconic hits. But as a new generation of artists emerge, it can sometimes feel like a relic. … Then there's Columbia Nashville's Kameron Marlowe.

For him, three chords and the truth isn't just a motto, it's the only way he knows to make music. Fusing steel-toed toughness with a visceral approach to songwriting, it's the truth itself that guides his hard-to-pin-down mix. And with his debut album, We Were Cowboys, he confronts it head on.

"This is me and this is what I wanna show the world," Marlowe explains. "I've really tried to fight for this record in a way that it doesn't sound like everybody else. … Basically, I tried to make it my own."

About two years in the making, the project marks a creative arrival for the Kannapolis, North Carolina native. Wielding a high-voltage vocal and a country style to match, Marlowe's sound is built around edgy electric twang, shades of gritty rock and a touch of bluesy tenderness, living comfortably in the darker corners of the honky tonk.

With a self-made background, Marlowe grew up singing and started a high-school band, inspired by everything from '70s and '80s country to Stevie Ray Vaughn, Ray Charles and Kings of Leon. A family-first kind of guy with a strong connection to his grandparents, the youngster grew to appreciate things that last, and by soaking up the music of his elders along with current hits, created a unique vocal mix that evident early on: Classic sincerity and modern swagger.

He carried on singing for fun in college, but he left school after one semester to help support his family after his mother was injured. The young talent took a desk job selling car parts for General Motors instead but still shared performance videos via social media. This is where he was discovered by a producer for The Voice – singing "Tennessee Whiskey" by Chris Stapleton - and landed a coveted spot directly in the show's live auditions.

Though his stint on The Voice was short-lived, Marlowe returned to his love of songwriting and jumped into his music headfirst after the end of a long-term relationship.

"I was 19 years old and head over heels for this girl," he explains. "So I got a ring, I had a house I was looking at, and I was just super pumped. It was like, 'This is where life starts for me.'"

As it turns out, he was right about that. Two weeks before Marlowe was planning to propose, his girlfriend abruptly broke off the relationship, and in frustration Marlowe turned back to his first love. Writing the first pieces of what became "Giving You Up" – a raw, razor sharp ballad whose deep wounds were overcome by a powerful sense of self-respect – the track laid Marlowe's broken heart bare for the first time and sent him down a new path.

Soon the young singer-songwriter was making the seven-hour drive to Nashville three times a week, joining random co-writes and always sharing his solo-penned "Giving You Up" with the group. He was told over and over it needed work, yet Marlowe stuck to his guns. He knew above all, the song was true.

"A lot of writers were like, 'Man, it's good – but it's not great,'" he recalls. "That took the wind outta my sails a little bit, but then I ended up putting it out, and it became my first Gold single."

"Giving You Up" was released independently in 2019, racking up millions of streams. Meanwhile Marlowe continued traveling back and forth between Nashville and North Carolina – booking Broadway gigs at Ole Red and once he didn't even have gas money to make it to, unless the venue could give him an advance. They knew his voice was more than worth the investment, and the up-and-comer usually left with a pocket full of tips. "Giving You Up" ultimately landed him an artist deal with Sony Music Nashville/Columbia Nashville and a publishing deal with Sony Music Publishing.

Marlowe kept writing and released a self-titled EP in 2020, sending the torchy "Burn 'Em All" into Billboard's Hot Country Top 40 and opening massive shows for Brad Paisley, Riley Green, Morgan Wallen and more. Now the story continues, with his full-length album debut putting him fully in the spotlight – and this time he's not looking for anyone's approval.

Produced by ACM/CMA winner Dann Huff and GRAMMY-nominated Brad Hill ("Giving You Up," "Burn 'Em All"), We Were Cowboys features a massive, 16-song track list and a bold, take-me-as-I-come spirit. Marlowe had a hand in writing 10 of those tracks, and says he was committed to holding nothing back.

"It's not in a cocky way," he cautions. "It's more like I want to be true to myself."

Right from the top, his approach hits home. "We Were Cowboys" was co-written with Tyler Farr and Wyatt McCubbin on a last-minute trip to Wyoming and ended up capturing Marlowe's artistic essence. A nostalgic tribute to childhood with a Western, epic feel, rough-riding vocals and vivid, lived-in details, the track became the jumping off point of the whole album.

"It felt special when we wrote it, and I haven't really had a song that's been that special to me since 'Giving You Up,'" he says. "It really is my story. The '93 Silverado, the corduroy couch and John Wayne movies. It's all a part of me."

The same is true of tracks like "Country Boy's Prayer," which turns the bench seat of that Silverado into a church pew. And with the gravel-road rocker "This Old Town," Marlowe finds the blink-and-you'll-miss-it beauty of his rural upbringing – rootsy and refreshing with an upbeat accordion-and-fiddle melody.

Meanwhile, romantic anthems like the soul-stinging "Ain't Enough Whiskey" rekindle the pain of "Giving You Up," and the hot-blooded "Girl On Fire" finds love flaming up in a summer fling. The blues rocker "Money Ain't $hit" knows the value of straight talk and a strong character – values with playfully potency on "Grandma's Got a Garden (for G'maw Jan)" – and the angelic "Steady Heart" kneels before a woman's amazing grace.

It's all true to Marlowe's world, and in typical fashion, it was even recorded with blunt honesty. Cutting vocals in live takes, Marlowe would simply sing the whole song a few times through, and then pick his favorite version. Grabbing quick, in-the-moment takes, the approach highlighted the best of Marlowe's talent and kept all the all-natural character of his voice intact, but it's not as easy as it sounds.

It's a music-making style that offers no place to hide – and as a result, almost no one does it anymore, especially on a debut album. But then again, Kameron Marlowe is no typical artist.

"We wanted to keep it organic and real and a little bit looser," he explains. "What it came down to is not wanting to sound like any other record, and I hope people get to know me out of this."
Mychael David
Born on September 27, Mychael was one of three children raised in the small country town of Northborough, Massachusetts. He spent time as a child singing and performing with his two sisters at local nursing homes. In his early years, Mychael spent time singing at church and participating in chorus all through elementary and junior high school. At age 6, Mychael learned to ice skate and soon after joined a local youth hockey program. This is where he developed his passion for hockey. For the next twelve years Mychael would perfect the game and set his sights on going professional. Thats when a knee injury stopped any thoughts of going pro. Mychael, once again, found himself focusing on his love for music.

In 1986 he joined a rock band and found himself back in front of audiences once again. That's when he knew he had found what he was meant to do. During a five year run with the rock band, Mychael spent alot of time writing and recording in the studio. Performing in clubs and various venues throughout the Boston area taught him how to express his feelings through his music to his audiences.
Soon after, Mychael found himself listening again to the music he grew up with. He found his inspiration through artists like Merle Haggard, Johnny Cash and Waylon Jennings, just to name a few.

In 1992, he joined a popular regional country group. They performed throughout the New England area. Playing originals written by the members in the band and covers that really focused on multi-part harmonies made the group a regional favorite, but Mychael wanted more out of his music.

In 1995, he became part of a national touring group where they traveled and performed with many artists such as Big Al Downing, George Jones, Charlie Daniels, Colin Raye, Pam Tillis, Mark Wills and many others, but Mychael still wanted more. In 2001, Mychael was offered to co-front a national touring act. They found themselves as featured performers at Daytona Bike Week in Florida, Best Friend Festival in Virginia, Indian Ranch in Massachusetts and many more along the way. This is when he met his good friend and producer, Lance Dary and started working together on a project in Nashville.
Mychaels' first single "Nothin'" spent and amazing 34 weeks on the charts before topping at #1 on the Indie World Charts. His follow up single "Smoke N Ash" is currently getting radio airplay and continuous rave reviews. His album "Long Hard Road" is still a best seller to his fans across the country. In 2011 he was nominated for New Music Weekly Male Vocalist of the Year along with Blake Shelton, Luke Bryan, Justin Moore just to name a few. He has also had many nominations from the Massachusetts Country Music Awards for Guitar Player of the Year, Male Vocalist of the Year along with
Entertainer of the Year and Band of the Year.
Mychael has had the pleasure of working with some of Nashvilles' most talented musicians. He continues to strive and perfect his music. The one thing he loves the most is when he's on stage, performing his music and reaching audiences of all ages.
Straight from the heart, hard rockin' country music, is what Mychael is all about.