Off The Rails
Paul Nelson
Fri
May 26
7:00 pm
(Doors:

7:00 pm

)
All Ages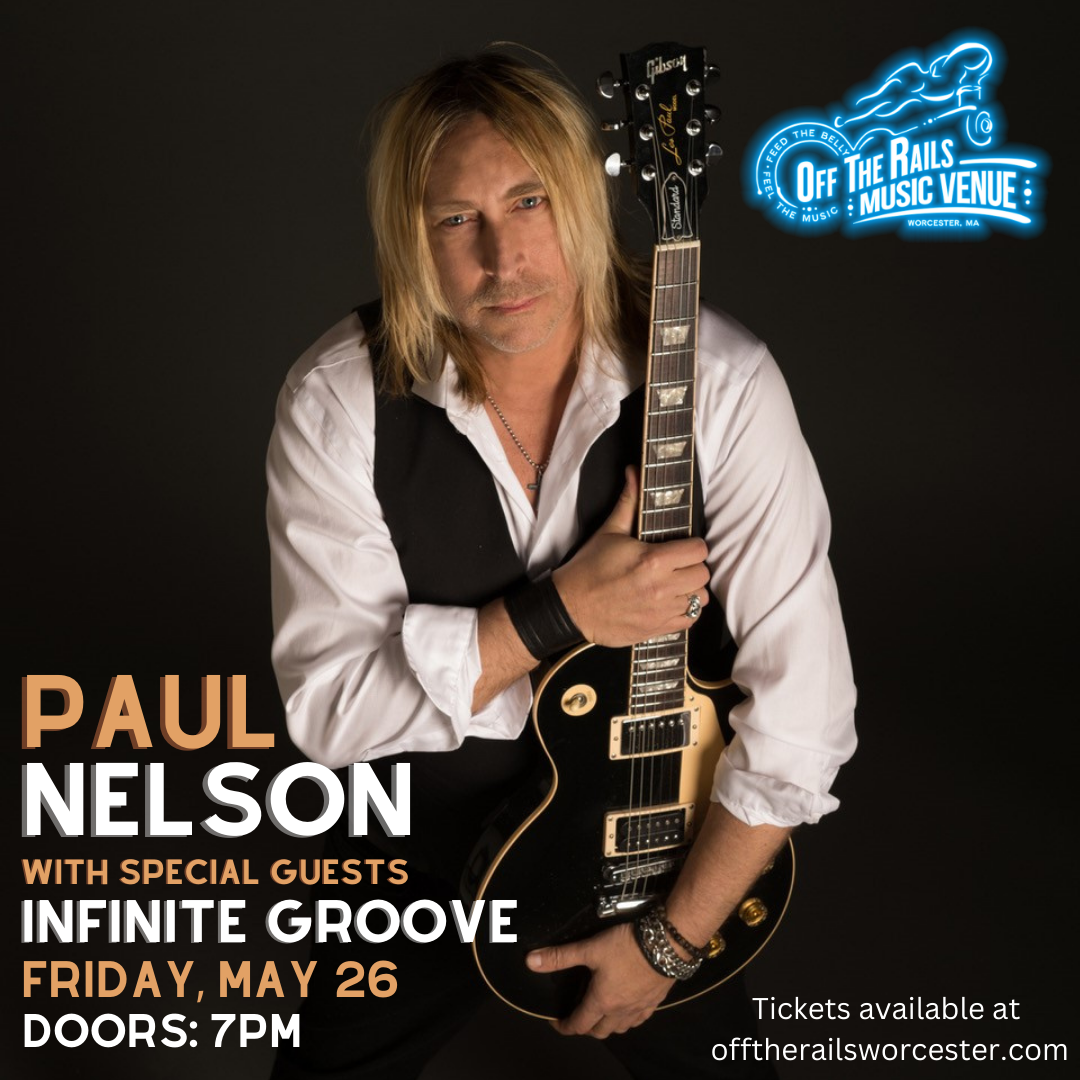 All Ages
$25.00 - $100.00
General Admission
General admission is standing-room only.

Reserved Table Seating
Get access to seating at one of our bar-height tables. Includes access to the full restaurant menu and personal waiter/waitress. One ticket includes seating for two people. Only 12 tables are available. Includes entry to show and a reserved parking spot in our lot. Present your ticket confirmation to the lot attendant on the night of the show.

*Please be advised that reservations made on OpenTable are NOT tickets to the music venue and do not offer views into the venue.
Paul Nelson Band
BLUES/ROCK GUITAR GREAT PAUL NELSON and HIS AMAZING BAND ON TOUR
Whether it's headlining international festivals, performing to sold out shows at iconic clubs worldwide, Paul Nelson's guitar mastery, in a live setting is the most exciting and unforgettable experience for all who attend.

Being blues/rock icon Johnny Winter's hand-picked touring and recording guitarist joining in 2010, is just one of the accolades held by Grammy-winning guitarist Paul Nelson. Nelson has also shared the world's stages and/or recorded alongside Eric Clapton, Buddy Guy, Billy Gibbons, Susan Tedeschi, Dr. John, John Popper, Slash, Warren Haynes, Derek Trucks, Vince Gill, Sonny Landreth, Ben Harper, Joe Bonamassa and the list goes on.

With appearances on late night with David Letterman and Jimmy Kimmel, Nelson a blues hall of fame artist is known for his amazing tone and playing style by an ever growing legion of fans establishing him as one of today's leading modern blues guitar trendsetters.

"He's a Great Guitar Player" "Brother Paul" - Buddy Guy
"Fantastic Guitarist" - Sonny Landreth
"Paul's an Amazing Musician" - Johnny Winter
"Great Guitarist" - Warren Haynes
"What else can we say about Paul Nelson except...Chops Deluxe."- Guitar World Magazine"
"An A-List guitar player...one of the most technically dazzling players around today."- Guitar Magazine
"He's a soulful player who has chops to burn. The word 'ferocious' comes to mind, or 'take no prisoners'"
- Vintage Guitar Magazine

Nelson received a Grammy award for his work performing on and producing Winter's "Step Back" release on Sony Records, winning "Best Blues Album of the Year" highlighting his already long list of Grammy Nominations. As well as the BMA "Blues Music Award" for "Best Blues/Rock Album" reaching #16 on the Billboard Top 200 and staying at #1 on the Billboard Blues Charts for weeks. He is also a recipient of the Blues Foundation's KBA "Keeping The Blues Alive Award".

Nelson also appears in the award winning documentaries: "Down and Dirty" The Johnny Winter Story and "Sideman: Long Road to Glory" (feat: Bonnie Rait, Gregg Allman, Hubert Sumlin),

Staying at #1 on the "Hot New Releases" charts for months. Nelson's latest project "Badass Generation" on Sony Records, still maintains his unmistakable connection to the Blues, but it also finds Nelson showing his many other musical dimensions that his ever growing fan base has come to expect and who consider him to be one of music's most respected and influential contemporary guitarists...

"Love this album - the sound and the energy. Gorgeous Tone, searing guitar work!" - Wall Street Journal - "The Paul Nelson Band Rocks!" - Goldmine Magazine. Come see why this guitarist's guitarist and his exciting band are packing houses on tour now
The Infinite Groove
The Infinite Groove is a powerful trio from the Rhode Island/Massachusetts region. IG provides an energetic, soulful fusion of Rock, Funk, Blues & Jazz. This stellar trio has a very dynamic style. You'll enjoy their wide expanse of material, which includes dance-able Classic Rock, shred-guitar passages, funky grooves, improvisational psychedelic voyages, and even tight original compositions. This multi-talented trio presents one unique sound that you're not likely to forget!
-Stevie D is a 25-year-old working musician from North Eastern Connecticut. The sole mission of his band, The Infinite Groove, is to create quality music through their fresh approach, creating a highly-individual sound with an interesting blend of influences and genres. As a guitarist/vocalist deeply rooted in Blues-rock, he had mostly worked in the Blues circuit for the early stages of his career. Although the foundation is in Blues, through dedication and a plethora of stage experience, he has become educate...