Shane Profitt
Sat
Feb 11
6:00 pm
(Doors:

6:00 pm

)
All Ages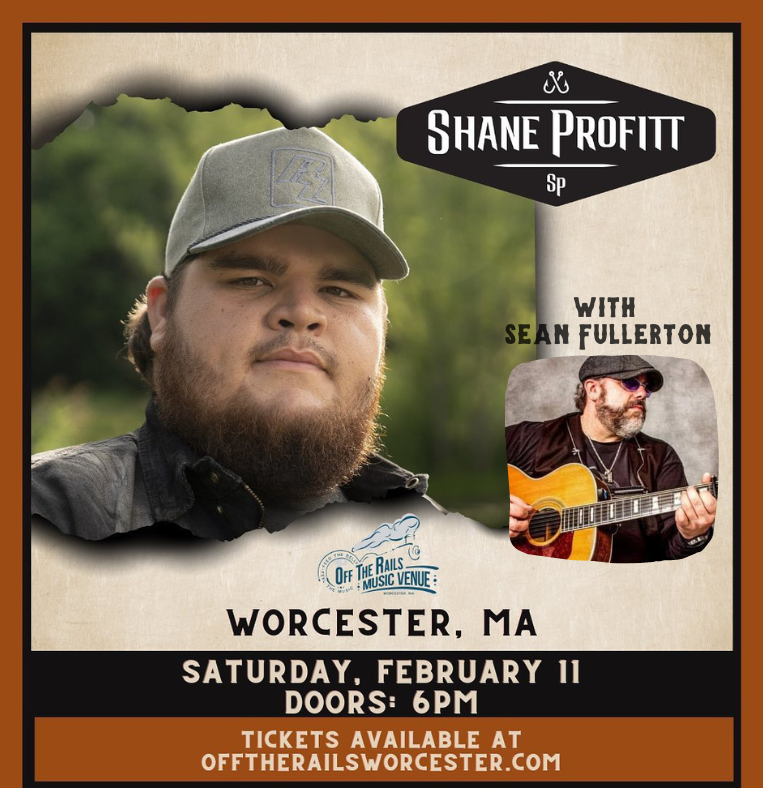 $25.00 - $100.00
General Admission
This event includes seated General Admission.
- Food is available for purchase during this event.

Reserved Table Seating
Get access to seating at one of our bar-height tables. Includes access to the full restaurant menu and personal waiter/waitress. One ticket includes seating for two people. Only 12 tables are available. Includes entry to show and a reserved parking spot in our lot. Present your ticket confirmation to the lot attendant on the night of the show.
Shane Profitt
Shane Profitt

Life can change fast – just ask Shane Profitt, an emerging Country star from the small town of Columbia, Tennessee.

At the end of 2021, he was still pulling overtime at his job with the city, busting his back about an hour south of Nashville and living for the weekend ...with a few decades left to go. But now the 22-year-old is rocking sold out crowds at the historic Ryman Auditorium, touring with his chart-topping hero and writing modern Country tunes so genuine, they slip on like a pair of broken-in work boots. Because no one has to tell this singer/songwriter what a blue-collar life is all about.

"Back in November I was still working for the city of Columbia, getting up at 6 o'clock every morning and working 8 hours a day – and I hated every minute of it," he says with a laugh, noting how far he's come in such a short time. "When people hear the name Shane Profitt, I want them to automatically know I'm no different than them, because I actually lived that 40hour-week life. And it wasn't that long ago.

"Now signed to BMLG Records/ Harpeth 60 Records, Profitt is back on the clock and hard at work once more – because it's all he really knows. But these days, the job description is different.

A salt of the earth Southerner with a big, barrel-chested voice, a straight-shooting swagger and a kind smile, Profitt's musical toolbox is full of all-natural talent, but he admits to only recently learning the craft. The journey starts about two years ago, when his grandad asked what he wanted for Christmas.

As it turns out, Profitt's family has its roots in Eastern Kentucky, and get-togethers would often turn into picking parties – since almost everyone played music (except him). His grandad loved traditional bluegrass, while Profitt's parents were fans of Keith Whitley, Hank Williams Jr. and Merle Haggard, and each would play what they loved. Profitt just wanted to do the same.

"I told him I didn't really want anything – except to learn how to play Hank Jr. songs on guitar," the kind-hearted youngster recalls. "So he taught me G, C and D, and I just stuck with it. It all started with those three chords."

Soon Profitt had surpassed his original goal, and within six months was playing his first paying gig in Columbia. Gifted with a heavy-duty vocal, he became a regular draw at the popular Southern-cooking chain, Puckett's, traveling all over Tennessee to weekend shows while still holding down his job back home. And while that made for some long hours, it also led to inspiration for original music.

Calling himself a sucker for "Keith Whitley-style heartbreaker," his first self-penned song was the start of a new life, because within a few months Profitt had begun a new kind of shift work. Working all day and then fighting brutal rush-hour traffic, he'd drive to Nashville each night, just hoping to find someone to write with. Oftentimes he'd get home just five hours before his alarm went off the next morning, get up and do it all over again. But it was worth it.

One day he was having dinner when his modern-Country hero walked in the restaurant. And after summoning the courage to say hello, he and Chris Janson became fast friends.

Impressed by Profitt's boots-on-the-ground writing style – and his good Southern manners – Janson began mentoring the aspiring star. He would even send Profitt song ideas, and some days the newcomer would park his mower under a shade tree and work out lyrics over lunch – which eventually led to "The Reel Bass Pro" becoming Profitt's first cut, appearing on Janson's All In album.

It wasn't long before Janson was inviting his protege to open shows, but months went by before Profitt finally put in his two-week notice, quitting his day job and signing a 2021 publishing deal to Janson's Old Tom Publishing/Anthem Entertainment. And after spending the spring of 2022 rocking crowds on the Halfway to Crazy Tour, "Country Boys" completes his transformation.

Built on the foot-tapping foundation of his granddad's bluegrass roots, it's a fast talking Fridaynight tribute to the only life Profitt knows, and after landing the singer-songwriter a record deal, his new career is underway.

"It's such a genuine song to us who actually live it," Profitt says. "It speaks to people just like me.

"The same is true about the rest of Profitt's recording debut, which was executive produced by
Janson with BigMachine Label Group Chairman and CEO Scott Borchetta and features GRAMMY® Awards winner Julian Raymond as producer. With tracks like the hook filled honky tonker "Better Off Fishin," the hopeful heaven-on-earth anthem "How It Oughta Be" and chestthumping charmer "Guys Like Me," Profitt puts his life to music — along with the lives of so many others. And this is just the beginning.

"I'm a writer on every single song, and I'm not gonna write about something I have no idea about," Profitt says. "So I'm dang sure not gonna sing about something I don't know, either."

"I just wanna be known as the guy that's been there, and is as genuine as they come," he goes on. "And that's not ever gonna change."
Sean Fullerton
Sean Fullerton
Sean Fullerton is a Massachusetts-based solo Acoustic/Electric musician, singer/songwriter, recording engineer, and producer with 28 years of professional experience, specializing in Blues, Soul, Rock 'n' Roll, Folk, Irish, and instrumental Classical and Fingerstyle Guitar...covers and originals...using a variety of guitars, harmonicas, and effects. Sean performs fun and audience participation style shows for restaurants, breweries, wineries, weddings, private parties, corporate events, libraries, and senior venues throughout New England.
Sean Fullerton has been involved in several performing acts throughout his career, including Acoustic duos 'RooK', 'The BaysicS', 'McCarthy & Fullerton', 'Gilmartin & Fullerton', 'The Gunkies', and 'Al & Sean', as well as Beatle tribute bands 'Yellow Submarine', 'Octopus's Garden', 'Beatle Wood', 'The Early Beatles', and 'Just 17'. Sean Fullerton has been a solo performer since 2008, and was voted the 2010 Worcester Music Awards 'Best Solo Act'. Since then, he has been nominated several times for Best Blues and Best Solo Act awards.